Festival Latino of the Berkshires Saturday, September 24, 2022 - 12 Noon-6:00PM Main St., Great Barrington, MA Town Hall & Saint James Place Hispanic Heritage Celebration Folkloric Ballets, Ethnic Food, Music, Crafts, "Spanish Practice". Non-Alcoholic Family Event. 9:PM - Festival Latino Gala Party Eastover Estate & Retreat Tally-HO Building 430 East St. Lenox MA T:413-243-3961, 413-717-0791 & 413-717-1096 |
www.festivallatino.org

NAMI Berkshire County will be running a NAMI Basics program beginning Tuesday, May 24th at 6:30pm. NAMI Basics is a free, 6-week course for parents and family caregivers of children and adolescents with emotional or behavioral issues.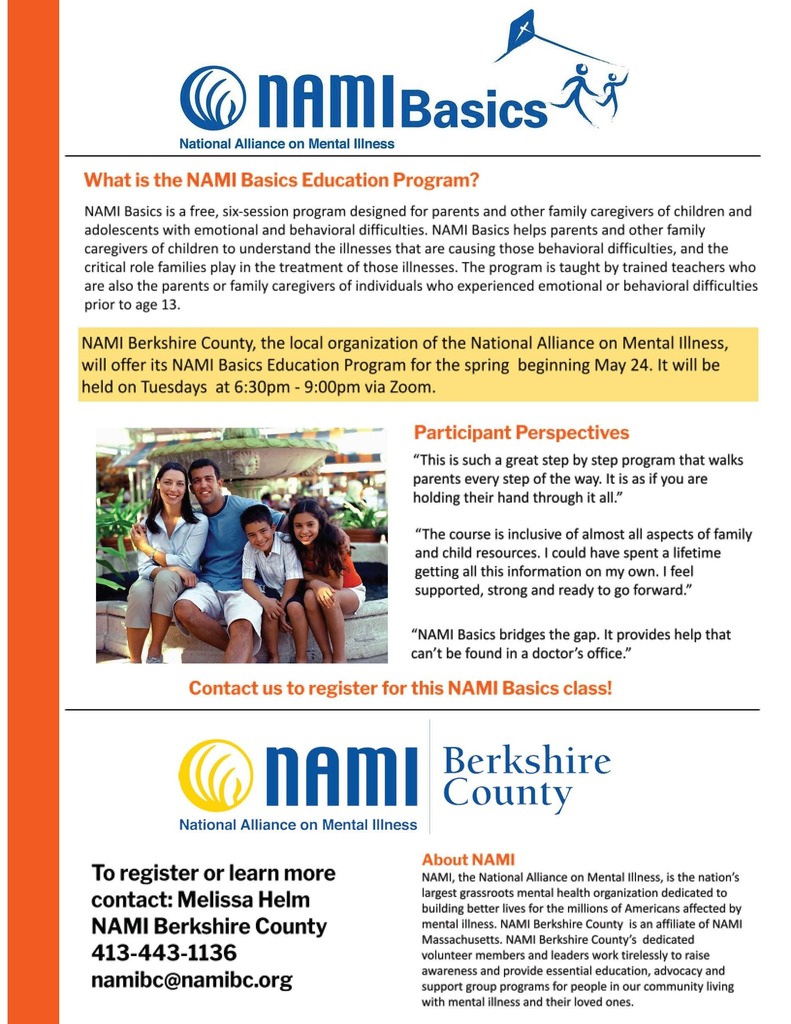 Veteran Services is hosting their 2nd annual BBQ on Friday, June 10th from 12:00 p.m. to 4:00 p.m. at the Greylock Community Club Pavilion, State Rd., North Adams. All Veterans are invited. Bingo, Raffles, Horseshoes, etc.

The Northern Berkshire YMCA is hosting a Blood Drive on May 17th from 9-2:30pm. To register please call (413) 447-2597x2 or email
camuso@bhs1.org
.

BCAC Fuel Assistance program is accepting applications until May 13th. Once a household is determined to be eligible for fuel assistance, the household may also be eligible for BCAC's Heating System Repair and Replacement and Home Weatherization Assistance Programs. Eligible households may also be eligible for BCAC's Refrigerator and Washing Machine Replacement Program, which replaces older high energy using models with new energy efficient ones. For more information, individuals can call BCAC at 413-663-3014 (for North County) Monday - Thursday between 9am to 3pm; or the 24-hour information line at 1-866-216-6200. The website is:
www.bcacinc.org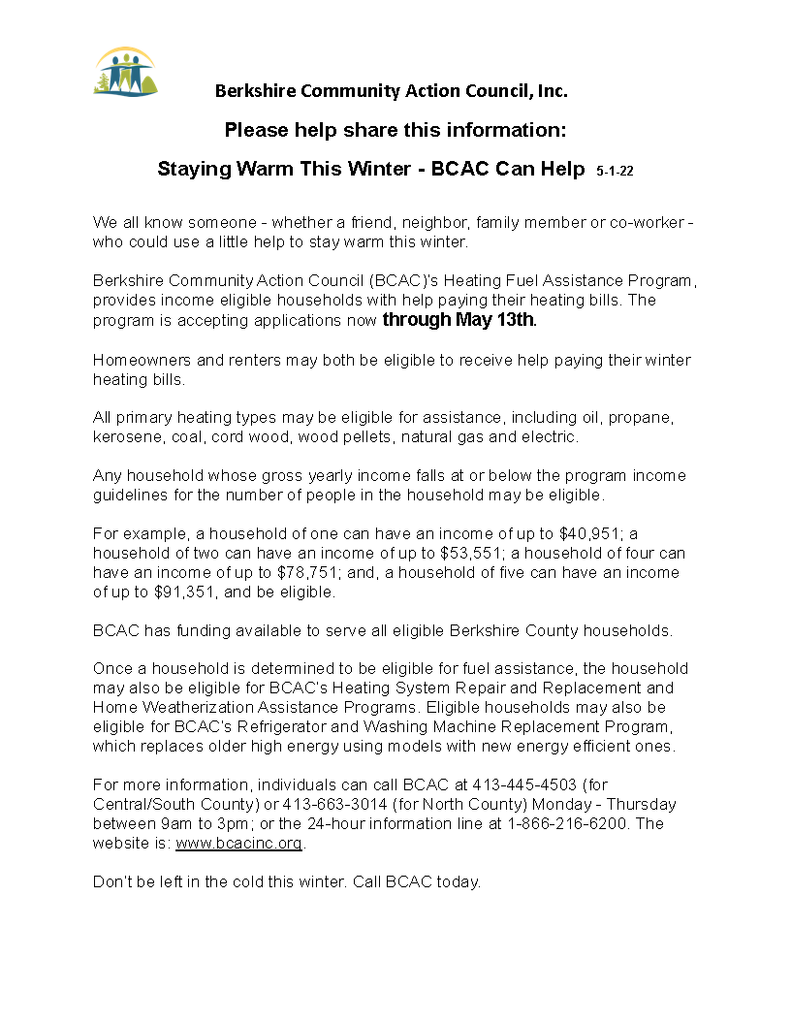 The next North Adams Mobile Food Bank will be this Friday, May 6th from 10-11 in the Brien Center Parking lot (American Legion Drive). All are welcome! Free grocery and produce items are provided by the Food Bank of Western MA.

April, 2022 Berkshire Bike Path Council You're Invited: A ribbon cutting for the Ashuwillticook Rail Trail southern extension: Saturday, May 7, 2022 - 10:00 a.m. Crane Ave Trailhead - 850 Crane Avenue, Pittsfield, MA 01201 Join us to hear remarks from officials, visit with local cycling and outdoor vendors, and explore the new trail section. Refreshments available! Join a group bike ride on May 7th to the trailhead from the following locations and times: For experienced riders: Park Square Pittsfield - 8:30 a.m. North Adams Armory - 7:30 a.m. On-Trail-only riding: Adams Senior Center - 8:30 a.m. Cheshire Snowplow - 9:15 a.m. Farnum's Crossing - 9:30 a.m. Family Ride for any age/ability: Berkshire Mall Road Trailhead - 9:35 a.m.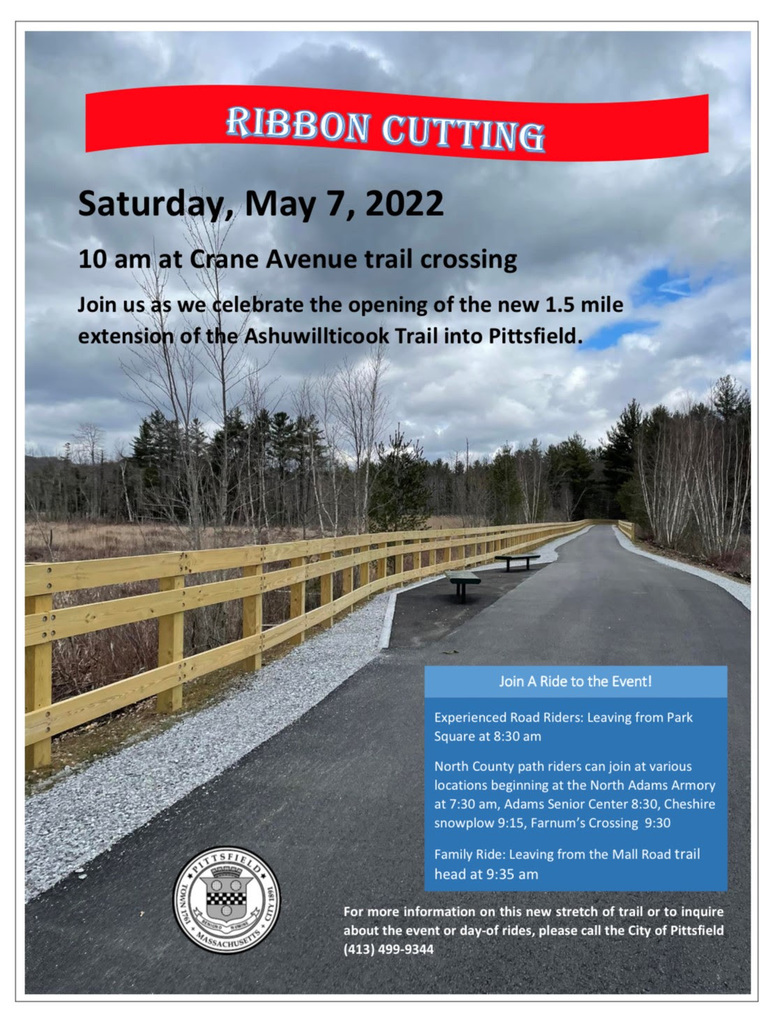 For adults who work with young people Youth Mental Health First Aid dates this summer Youth Mental Health Youth Mental Health First Aid - Blended Dates: May 26, 2022, 9:30am - 3:00pm (register by 5/19) June 4, 2022; 9:30am - 3:00pm (Register by 5/27) June 22, 2022; 9:30am - 3:00pm July 21, 2022; 9:30am - 3:00pm August 17, 2022; 9:30am - 3:00pm Youth Mental Health First Aid is designed to teach parents, family members, caregivers, teachers, school staff, peers, neighbors, health and human services workers, and other caring citizens how to help an adolescent (age 12-18) who is experiencing a mental health or addictions challenge or is in crisis. Youth Mental Health First Aid is primarily designed for adults who regularly interact with young people. The course introduces common mental health challenges for youth, reviews typical adolescent development, and teaches a 5-step action plan for how to help young people in both crisis and non-crisis situations. This event is provided free of cost with grant funding from Substance Abuse and Mental Health Services Administration (SAMHSA). Space is limited. Please pre-register. For more information or to register For more information, contact:
events@collaborative.org

Teen Writing Workshop Wednesday, May 18th from 5-7 3 West Event space in the NorAd Mill (North Adams)

JiJi made a quick visit to Brayton Elementary School last week! @STMath @Mass_STEMHub

North Adams Public Schools Off Campus Progam Open House on Thursday, May 5th from 8:00 am to 6:30 pm. Hanging baskets, vegetables, herbs, annuals, perennials. Light refreshments will be served.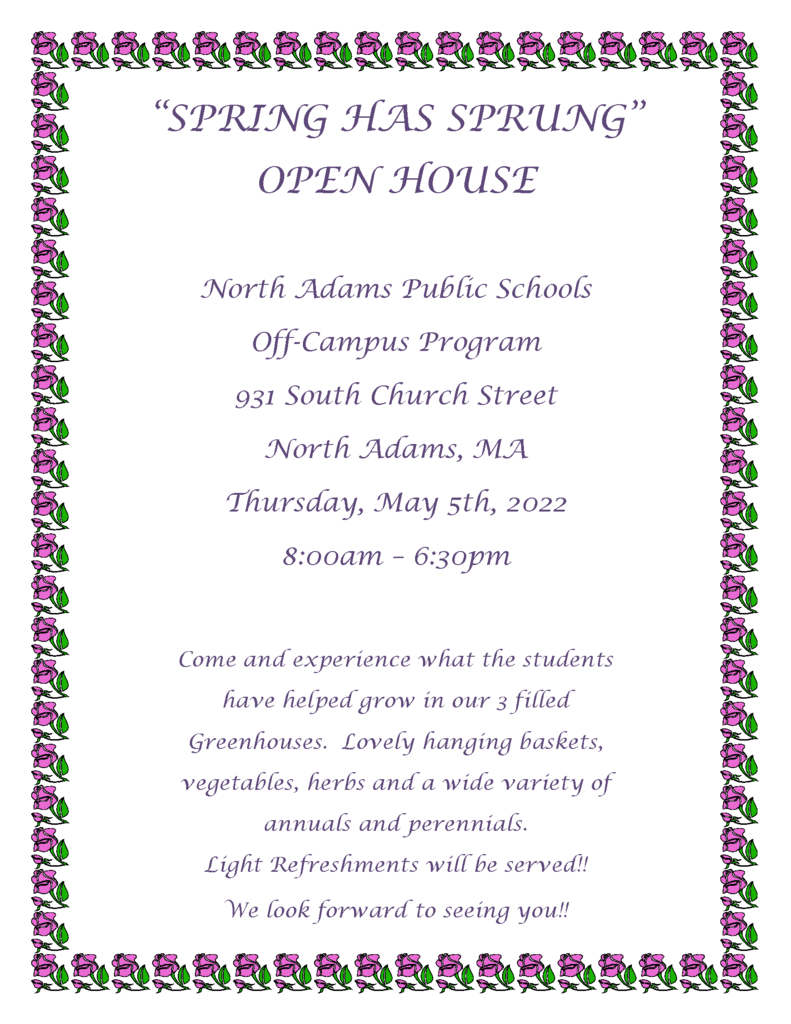 Hearing All Voices 2022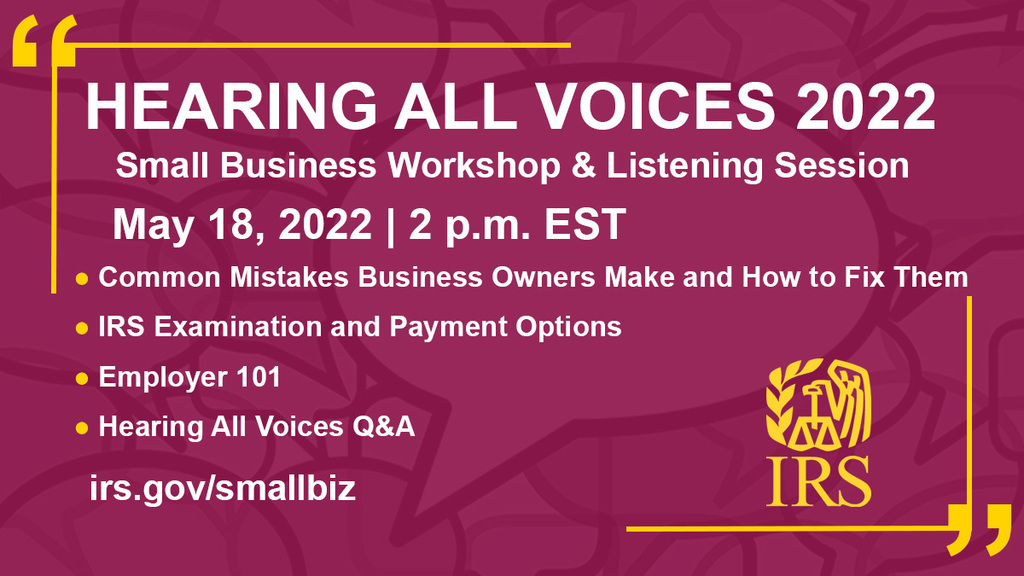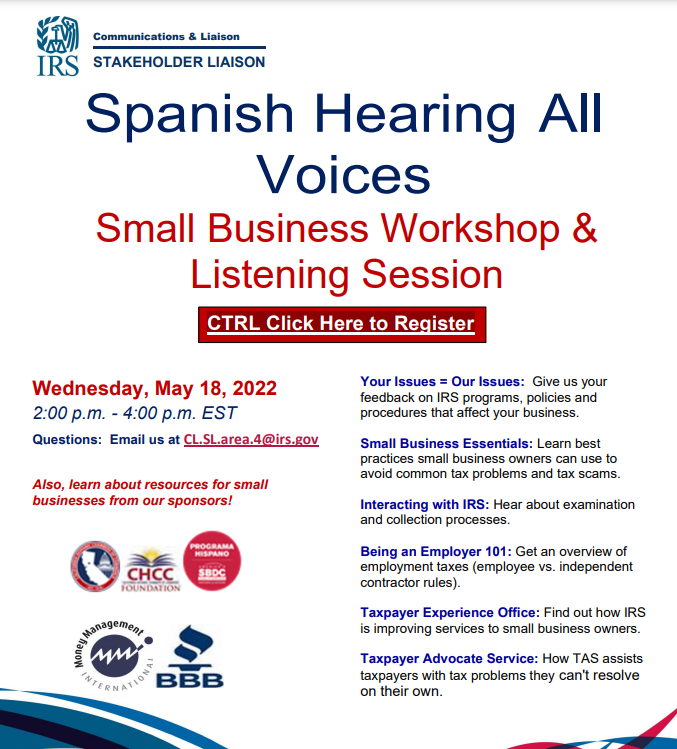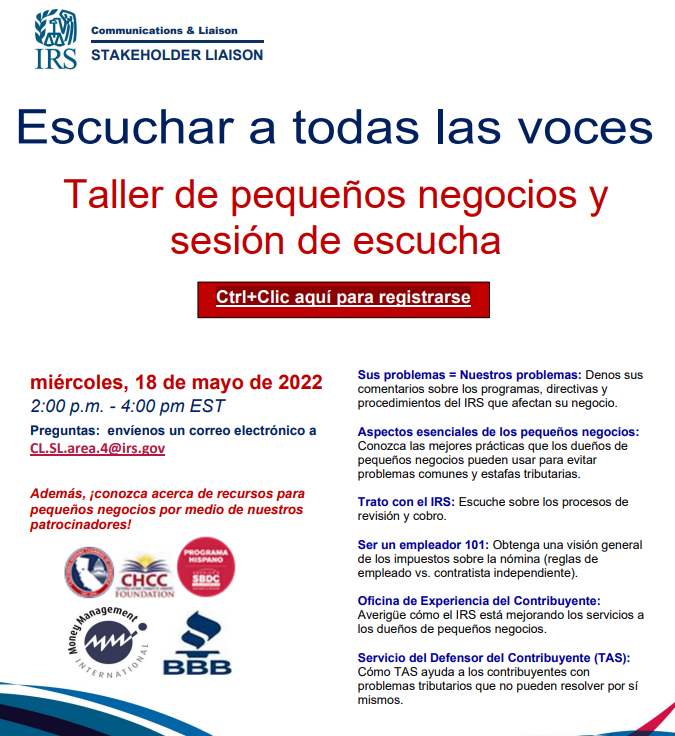 MASS MoCA invites Berkshire teachers and social workers to a free day of joy, creativity, and community with their families. Enjoy the galleries and special activities designed to make you feel our collective gratitude for your hard work each and every day, especially over the past two years. 10am–5pm Enjoy our vast galleries, including our 10th annual Teen Invitational 12–1pm Take part—make art at Kidspace's Art Bar "What's coming next preview" with curators 1–3pm Drawing project with exhibiting artist Amy Yoes 2pm Supaman performance with special remarks by Massachusetts First Lady Lauren Baker The attached postcard has the details for the day and information on how to reserve your free tickets. Scan the QR code and use the promo code GRATEFUL to register for the event. massmoca.org/appreciation COVID-19 vaccinations are no longer required to enter MASS MoCA's galleries. COVID-19 vaccinations are still required for performing artist events. Read our full COVID-19 FAQ here.
https://massmoca.org/visit/faq-frequently-asked-questions/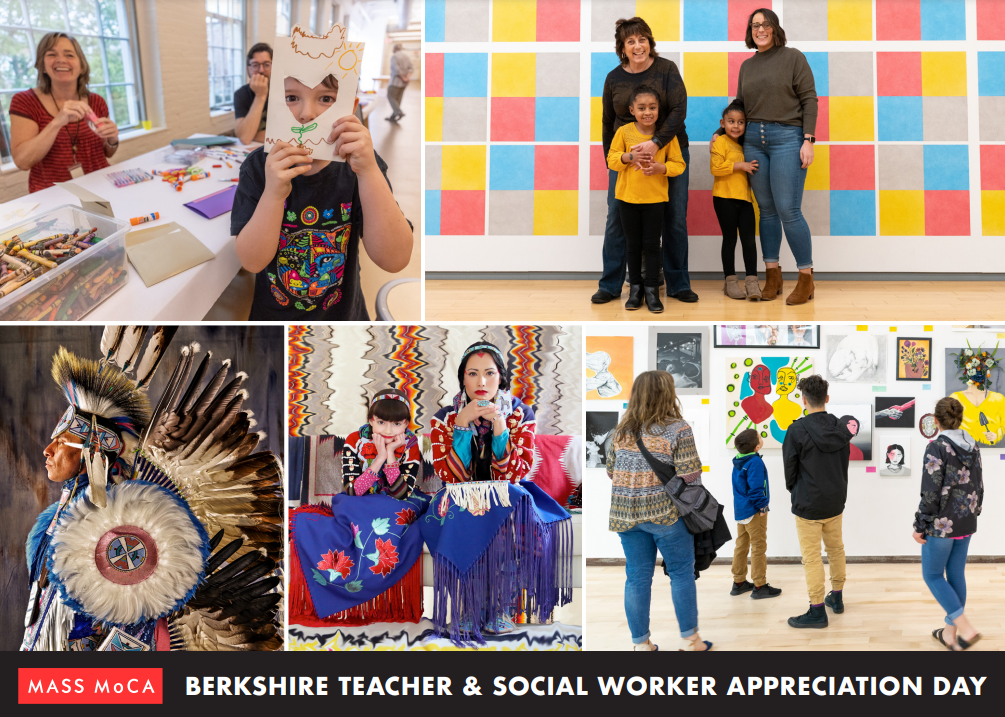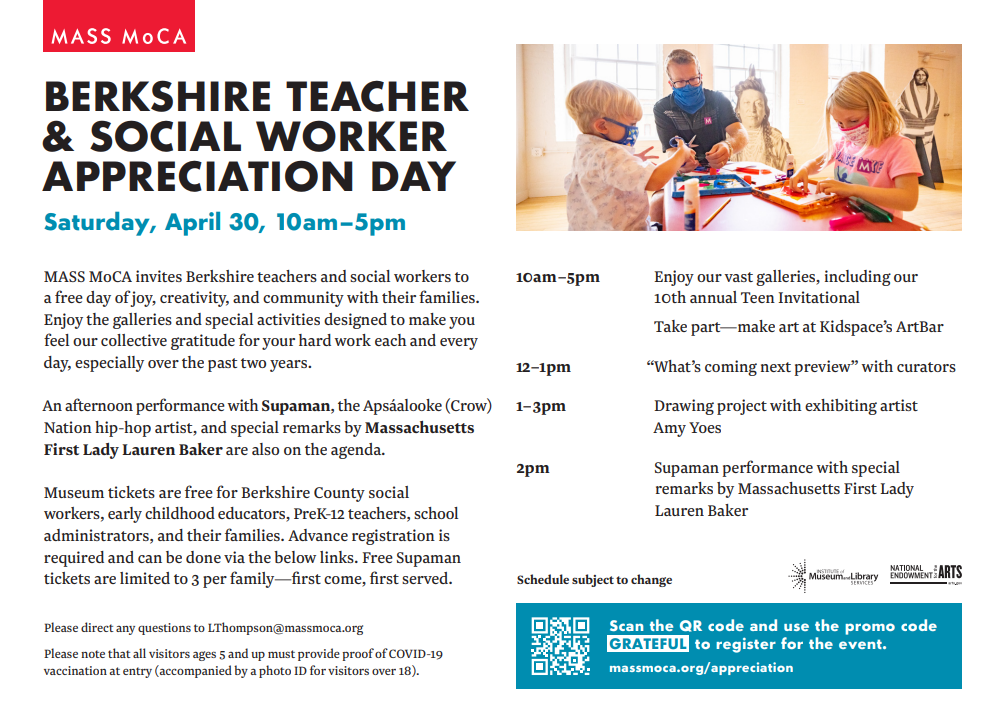 Story & Craft Time is back at North Adams Public Library! Swing by after school, every other Wednesday at 3:30pm. The next one is Wednesday, April 21st at 3:30. See the library's event calendar (link below) for all scheduled story times, or call 413-662-3133 ext. 14.
https://naplibrary.libguides.com/home/calendar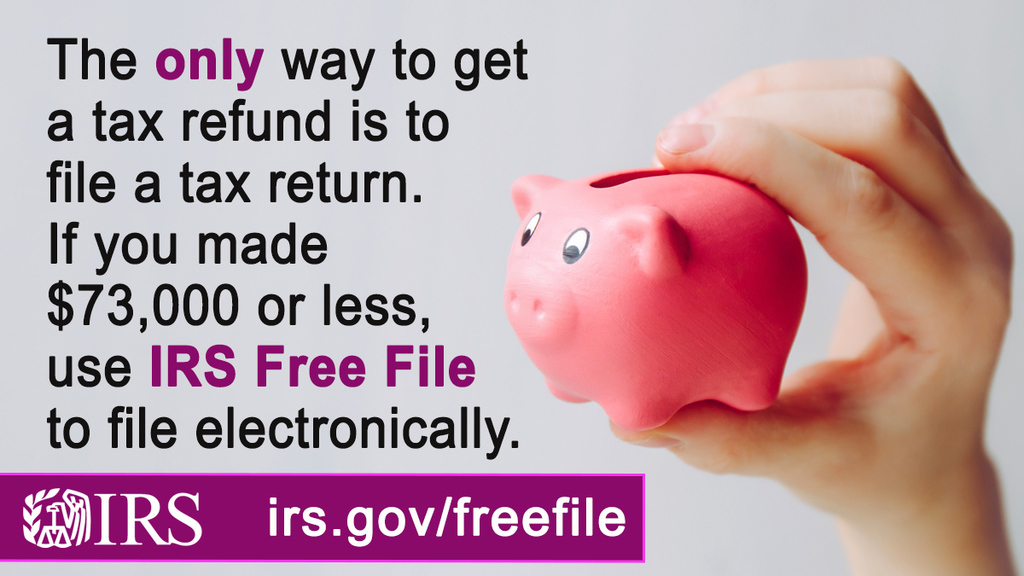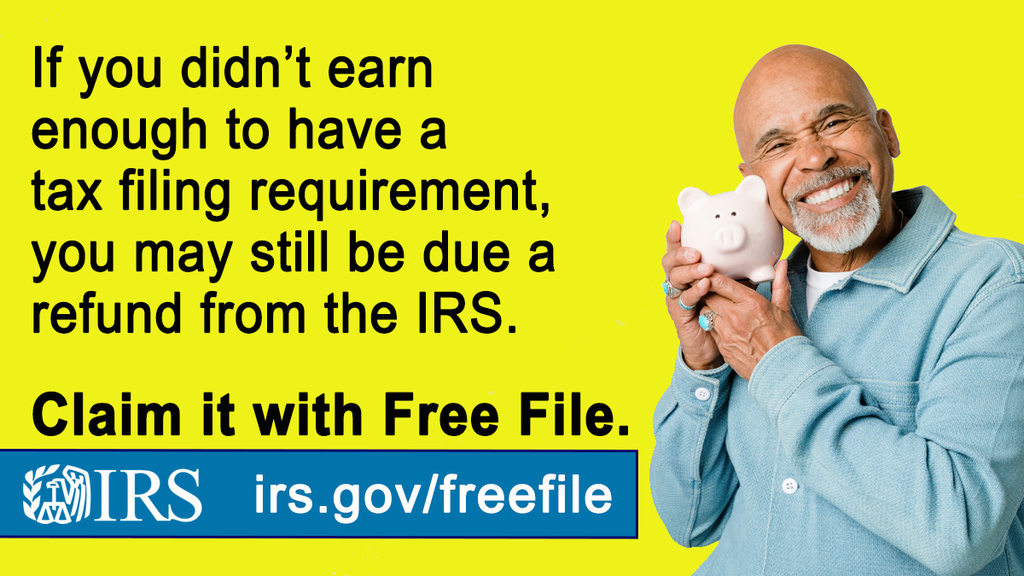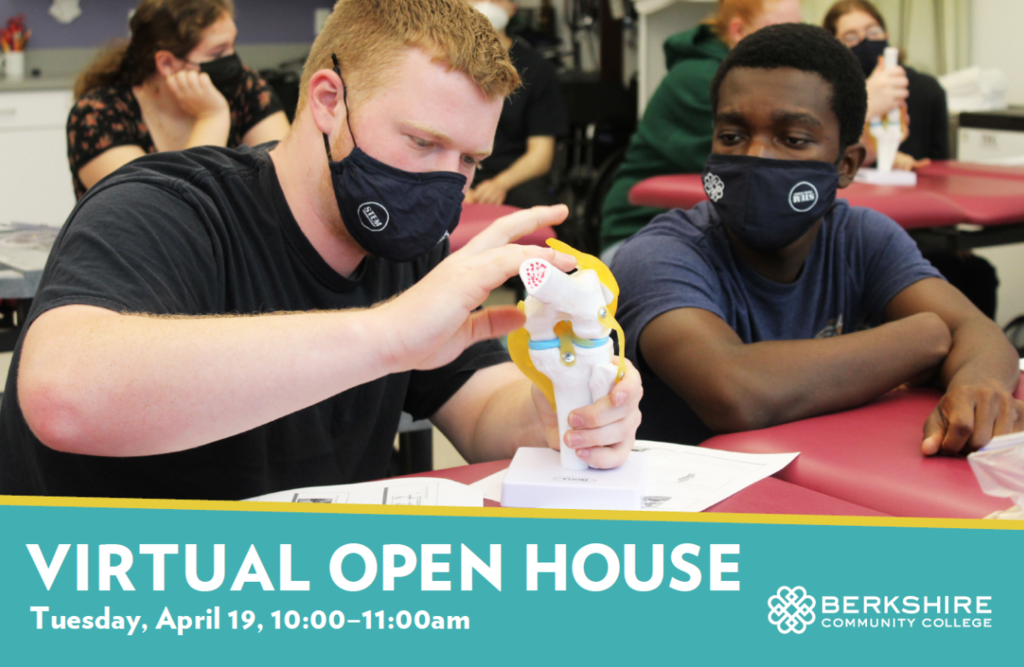 Are you in need of a car seat? Unable to afford one? Northern Berkshire EMS has been awarded a grant through Buckle Up For Life and has car seats and booster seats available. To be eligible, you need a child (or are pregnant!), be a resident of Northern Berkshire County, MA or Southern Vt., and have a vehicle to install the seat in (your own, or family, or friends). Car seat installs take about 30-45 minutes and includes education on installing the seat, proper use of the seat, and general vehicle safety. APPOINTMENTS ARE REQUIRED MASKS ARE REQUIRED Questions? Call 413-662-8034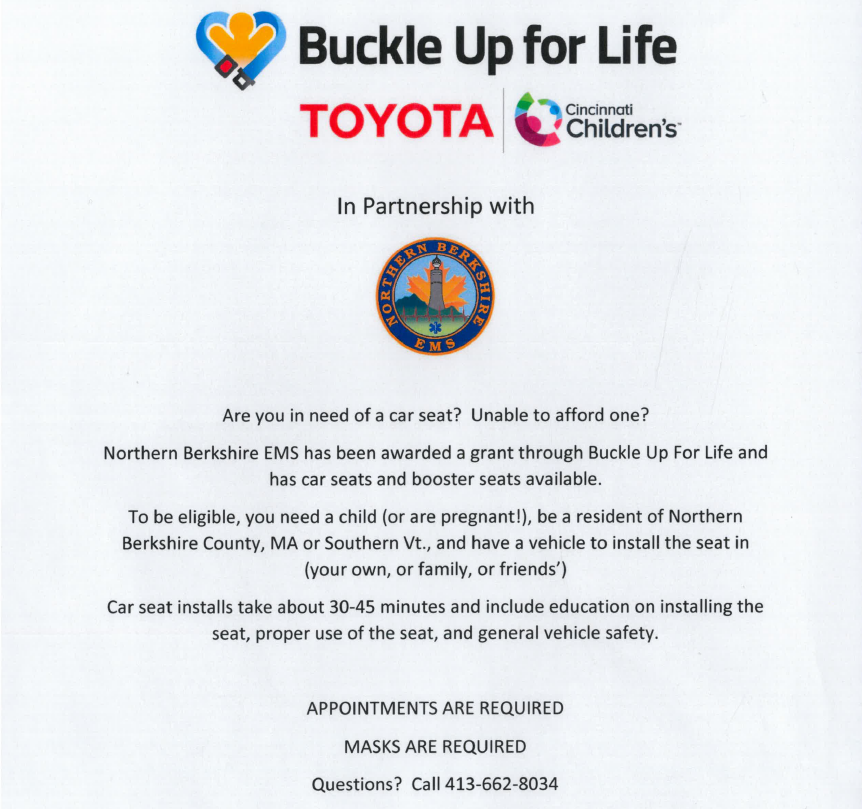 North Adams Mobile Food Bank Friday, 4/11 10:00 am-11:00 am Brien Center parking lot, American Legion Drive The mobile food bank is open to everyone. Link to updated Berkshire County food and meal sites:
https://5il.co/18mpr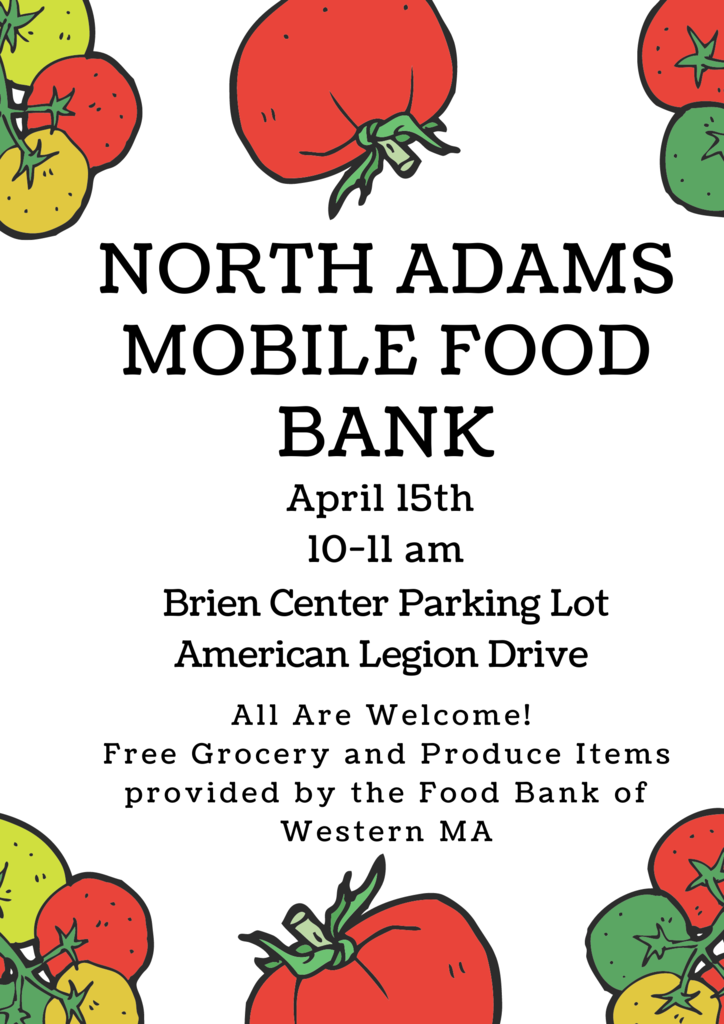 Berkshire Bishops Chess Club - Thursdays starting 4/7/22 at 6:00pm First Congregational Church, 134 Main St, North Adams All ages, all levels. Boards available or bring your own!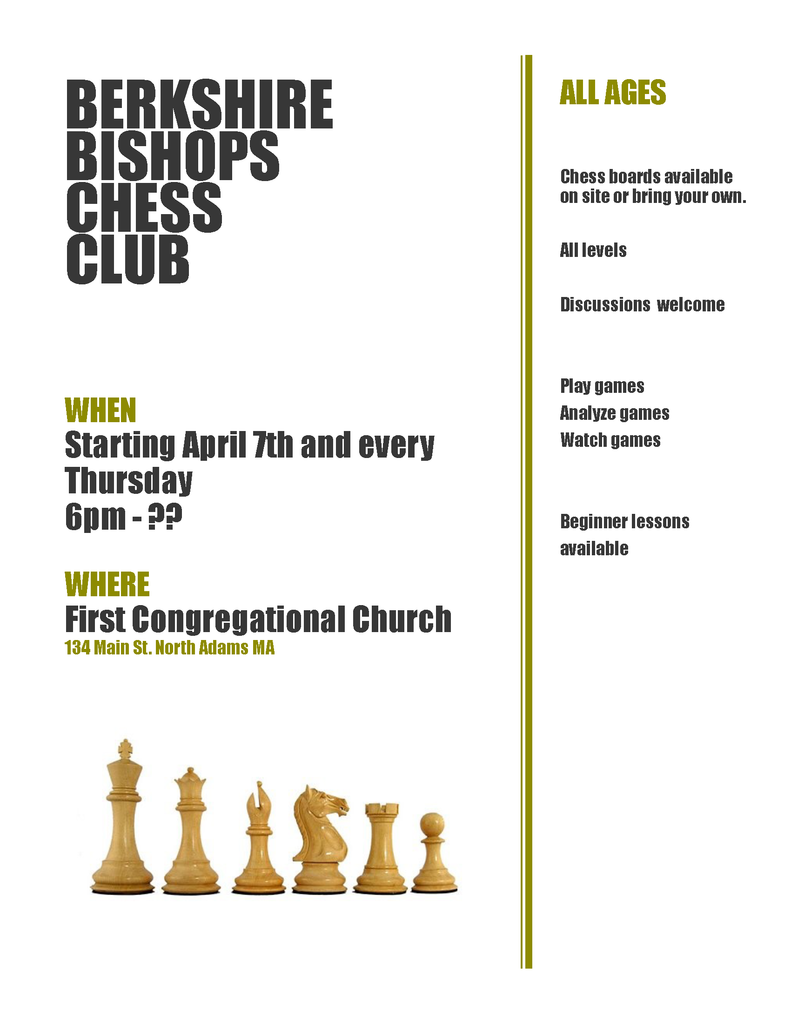 Get the facts. No filters. mass.gov/vaping @GetTheVapeFacts