This is a reminder to our PreK families that due to scheduled teacher professional development, there will be no PreK (a.m., p.m., or full-day) on the following days: May 5th and June 2nd. Feel free to reach out to your child's teacher with any questions.

Get Emergency Broadband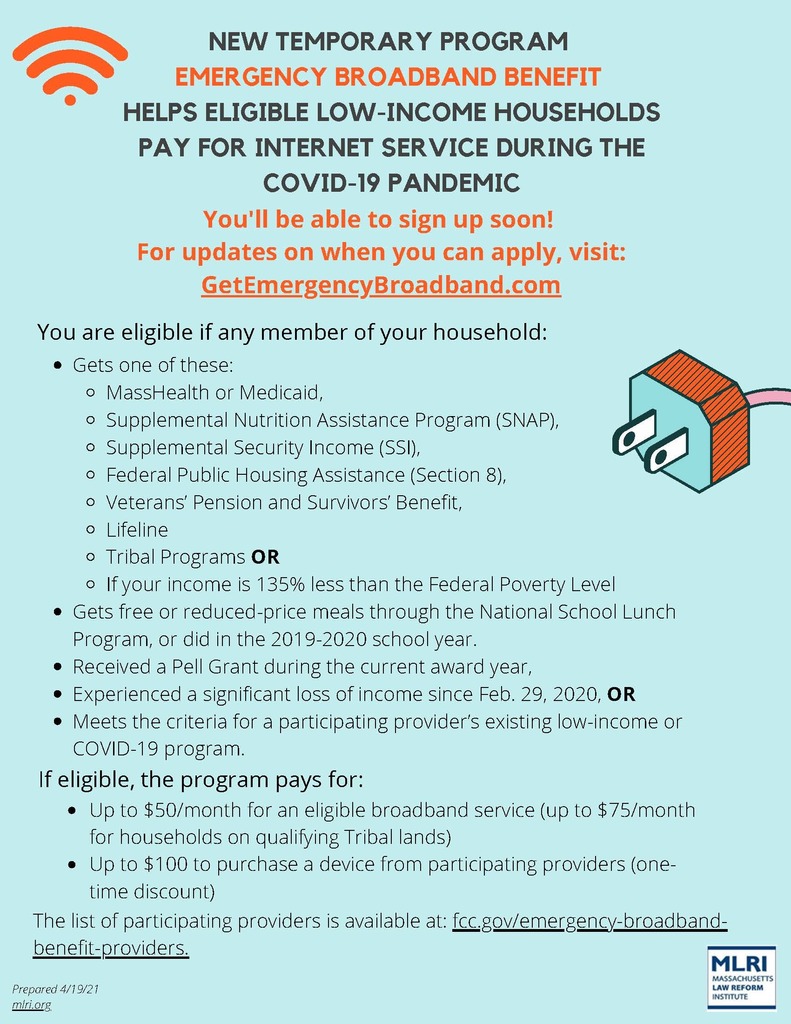 May 2021 Grab and Go Menus...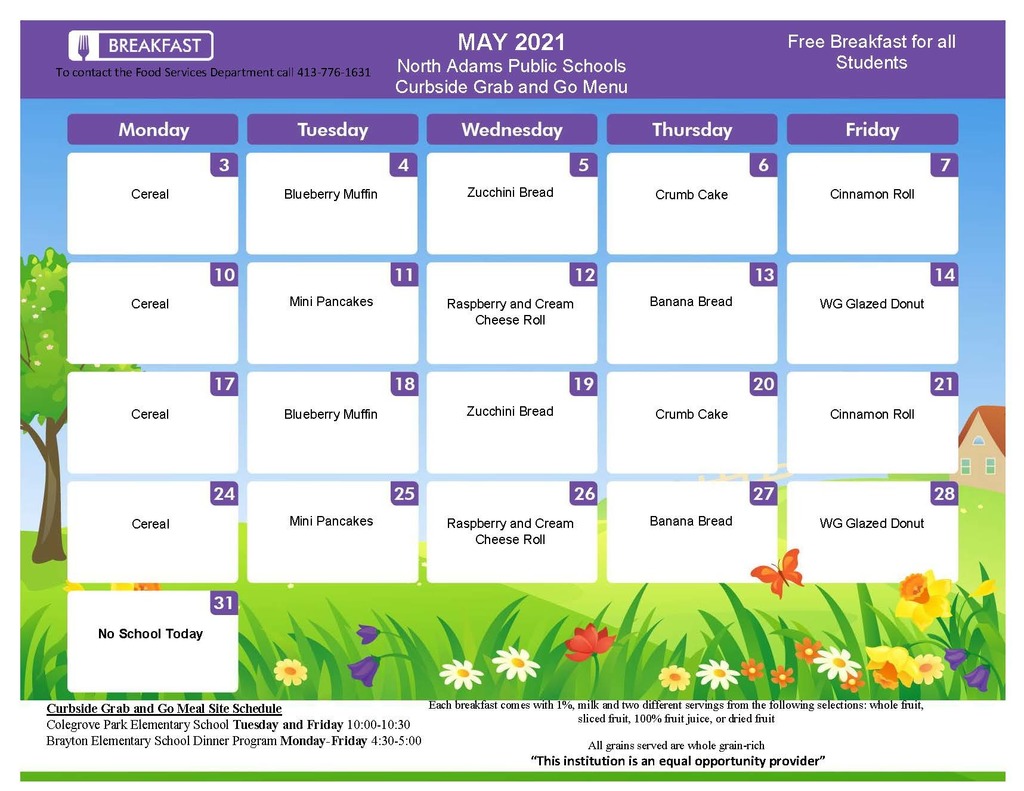 North Adams Public Schools May 2021 Breakfast, Lunch, and Dinner Menus...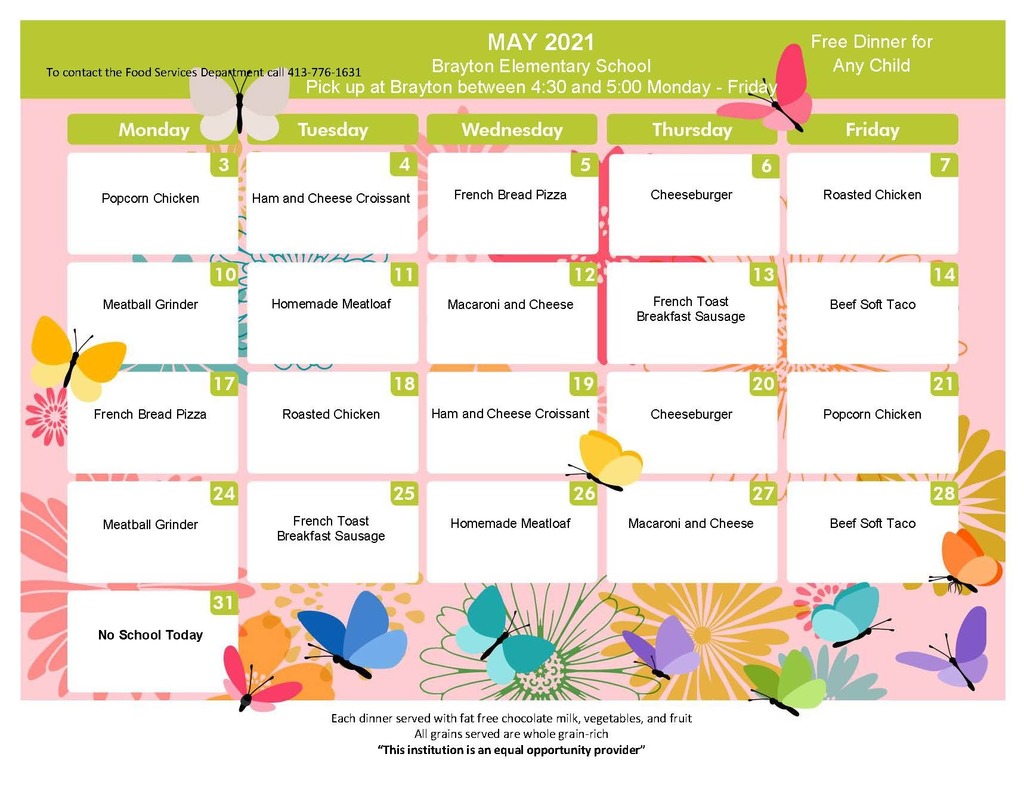 Upcoming MA 4-H event: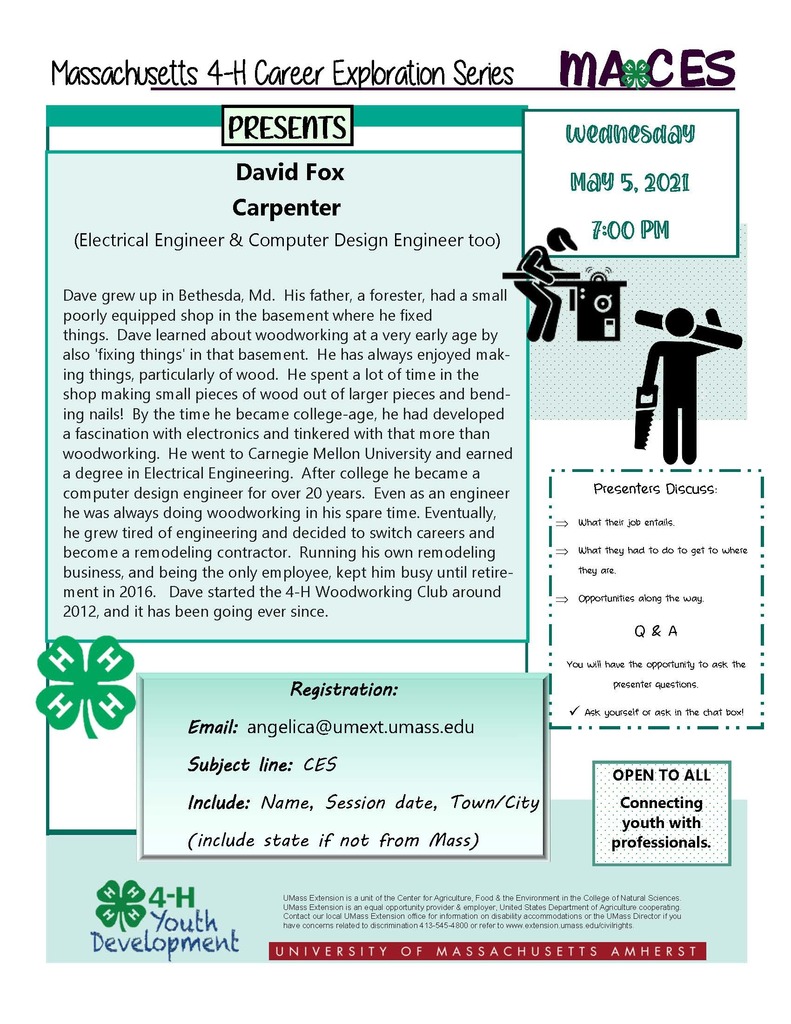 ROOTS Teen Center Drop-in program is back! Find ROOTS at UNO Park on Thursdays for questions, conversations, and games every Thursday through Summer and Fall! We have many more events in the works at the moment, make sure to follow us on instagram and Tiktok @roots.teencenter and Facebook @rootsteencenter, and as always, check out our website rootsteencenter.org for upcoming programs and awesome opportunities for Berkshire youth!

Upcoming ROOTS Teen Center event: nbCC is hosting ROOTS for a bicycle mechanic workshop led by John Gadbois. The program is six weeks and is free with all equipment provided. ROOTS and nbCC will be ensuring a distanced, outdoors & COVID safe environment for this in-person event.

On Monday, April 26th, join the Roots Teen Center and neighbors from The Plant Connector for an online workshop where participants can create their own terrariums. Perfect for all plant and nature lovers! All equipment will be free and have contactless delivery. There are only TWO spots left so sign up soon.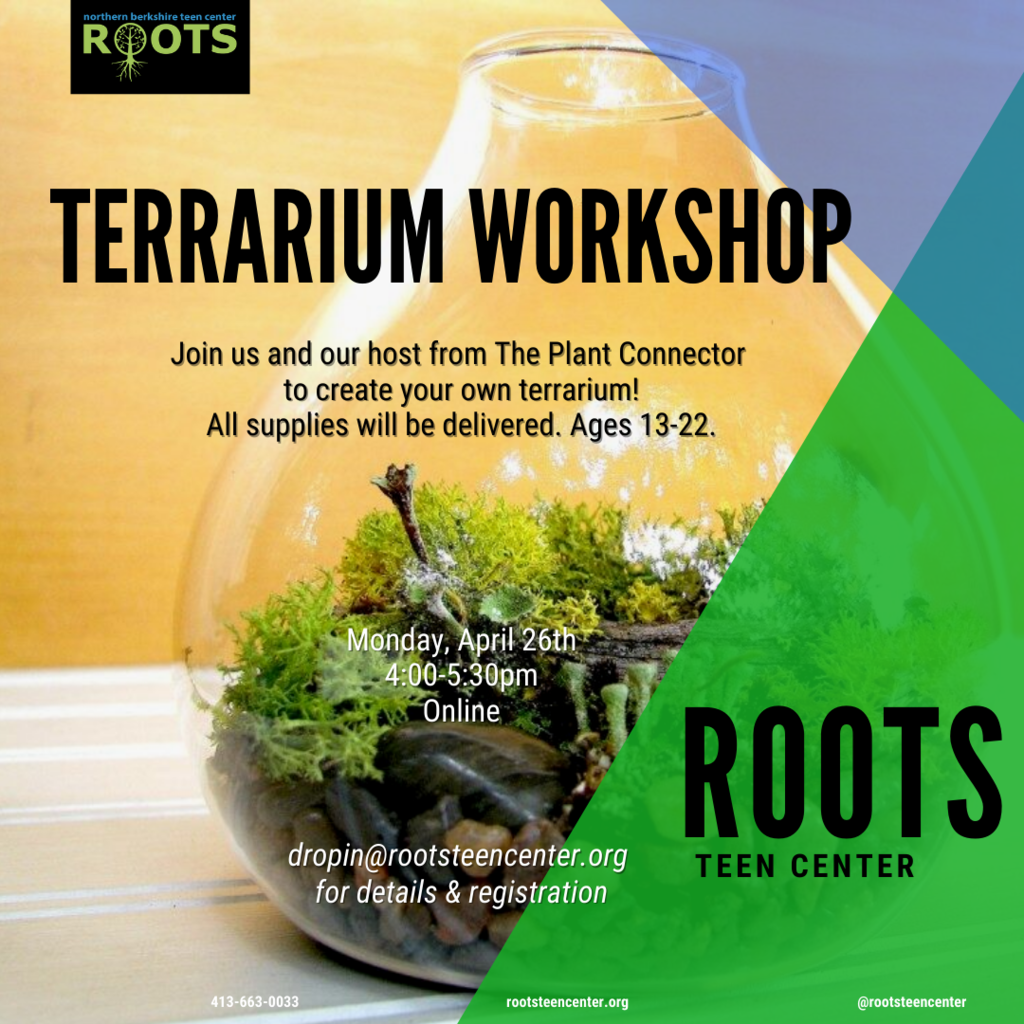 The MassHire Berkshire Workforce Board and the Berkshire United Way are pleased to offer a FREE series of Social Emotional Learning Professional Development Workshops for Berkshire K-8 educators and families! Life coach Kristin Asadourian will be facilitating these workshops based on her inspiring and dynamic 'Living Become' principals of being Bold, Energized, Compassionate, Open-hearted, Mindful and Empowered. To learn more about Kristin and her work, please visit:
https://www.kacoach.com/
BECOME Family Workshop: Thursday, April 15, 2021, 6:00 - 7:30 PM. Click here to register:
https://us02web.zoom.us/meeting/register/tZMkduyprTMjG9Qv5WsTsbsypBhhkSPnCwgu
This workshop creates a space for parents and guardians to come together in community to learn how to support the social and emotional development of their students. The learning is centered on gaining awareness for the needs of students based on where they are developmentally. Talking points, tools, and strategies to successfully support the student and model effective communication are provided in an interactive space that allows the participants to explore the learning. The workshop uses the principles of the BECOME self-discovery process to create language and learning parallel to the language and learning being used in the classroom. It raises awareness and confidence in the participant so they can communicate with ease and comfort as they face parenting challenges. The workshop calls on parents and guardians to trust their intuition and engage their students with love and support, so they feel seen and heard.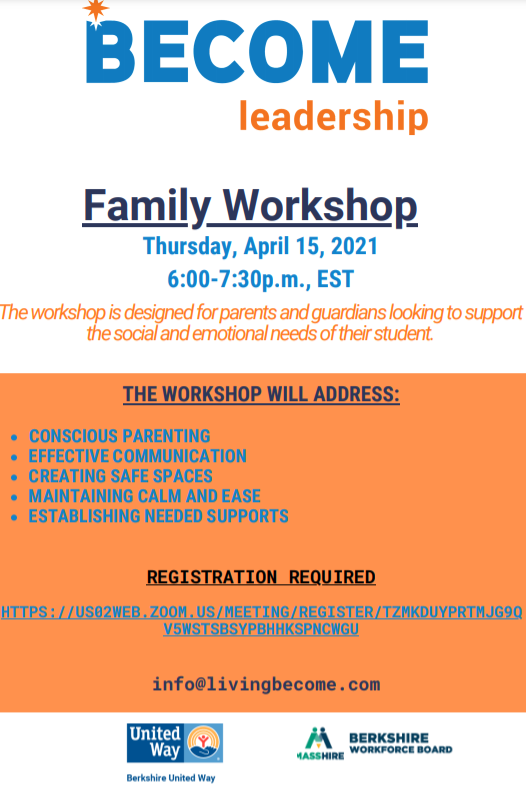 Check out this upcoming programming from MassHire!


North Adams Mobile Food Bank on Friday, 4/16, from 10:00 am-11:00 am at the Brien Center, American Legion Drive. All are welcome!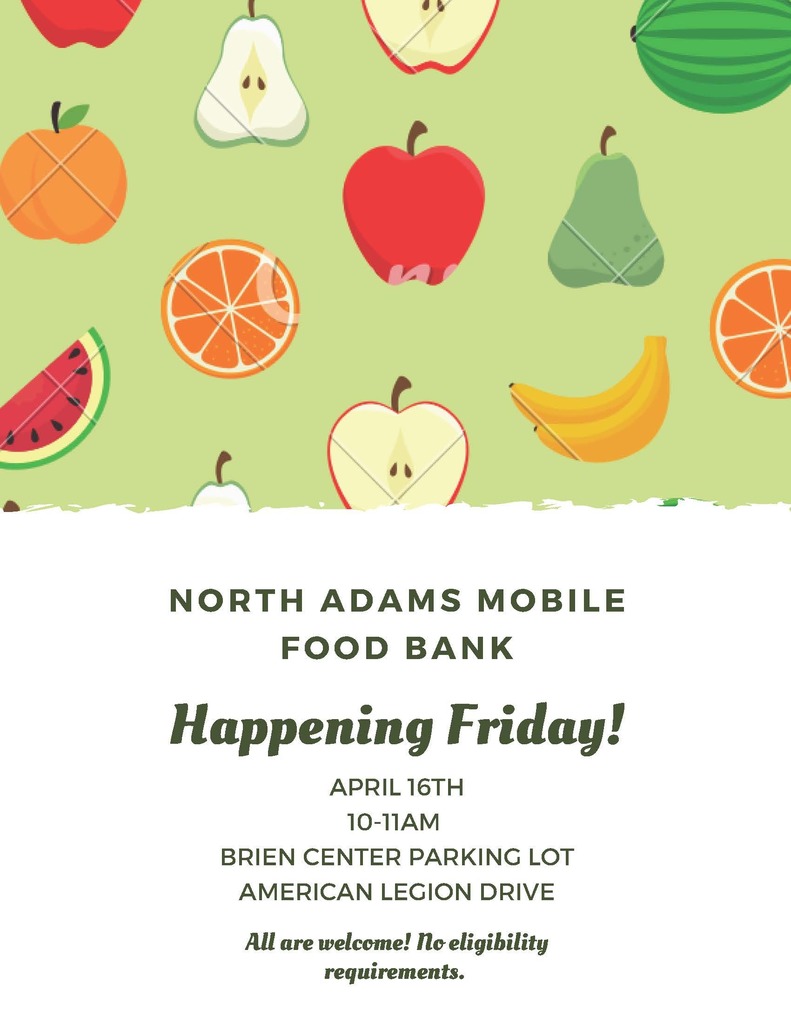 You're invited to attend the virtual Induction of Drury students into the Pro Merito and Nu Sigma Honors Society via zoom on Wednesday, April 14th, at 7:00 pm:
https://napsk12.zoom.us/j/95559928158

Upcoming MA 4-H CES Event:

Dear Staff, Students, and Parents/Guardians, I am writing to inform you that two individuals in our Greylock Elementary School community have tested positive for COVID-19 as a result of a known exposure. The individuals were tested and identified as positive on Wednesday, April 7, 2021. These two positive cases are related to an exposure outside of school and are not related to the positive case reported earlier this week. At this time there is no evidence of community spread within the school. The new cases impact Greylock Elementary School and will not require a further move to remote learning to quarantine students or staff due to a lack of contact since the last day of possible exposure. Students and staff can continue with full in-person learning on Thursday, April 8, 2021 and Friday, April 9, 2021. Though we cannot provide specific information about the individuals who tested positive, North Adams Public Schools has implemented our protocols for notification, disinfection, and quarantine. Contact tracing has been conducted by School Nurse Leader Lauren Gage and she is assured that there is no possible exposure within the schools due to these cases. We are also following all Department of Public Health protocols, including collaborating with our local board of health to complete contact tracing. Additionally, we are asking those parents whose students are tested for COVID-19 at their health care provider's office or at the Stop the Spread Center located at 97 Church Street, North Adams to please report the results to the school nurse in a timely manner. The district's ongoing pooled testing program continues to assist us in determining if there is potential of community transmission of COVID-19. If you would like your student to be tested via our pooled testing program, please complete a consent form. To complete the Pooled Testing Consent Form, go to:
https://www.napsk12.org/page/pooledcovid19testing
. If you have any questions about the pooled testing program, please email the school nurse Lauren Gage at
lgage@napsk12.org
. We will continue to be vigilant in adhering to all of the protocols that have been put in place in an effort to continue in-person learning. We are also continuing to provide remote learning for all students required to quarantine at home. We are committed to continuous communication with, and support of, our families. If there is additional transmission as a result of this case or a separate case, we will send out another message immediately. Thank you for your continued support. Sincerely, Barbara Malkas, Ed.D. Superintendent of North Adams Public Schools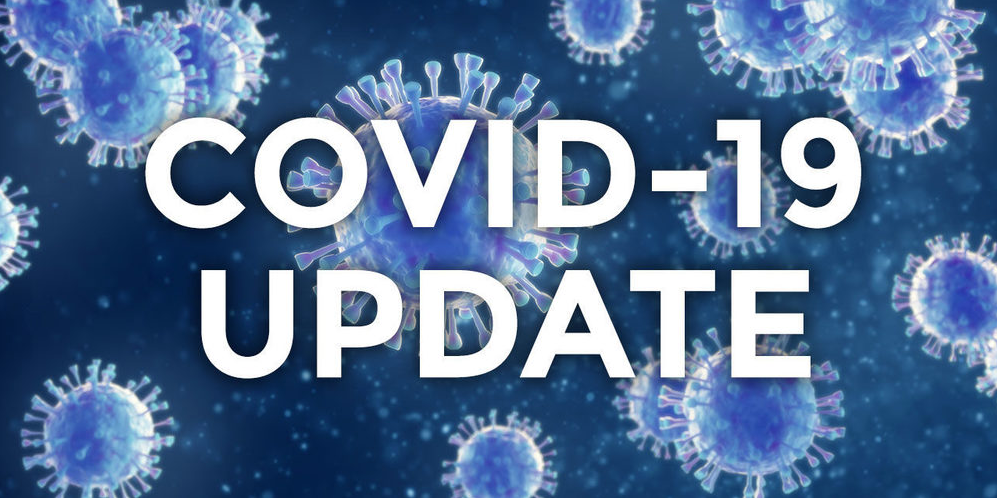 Upcoming programming from the Family Place.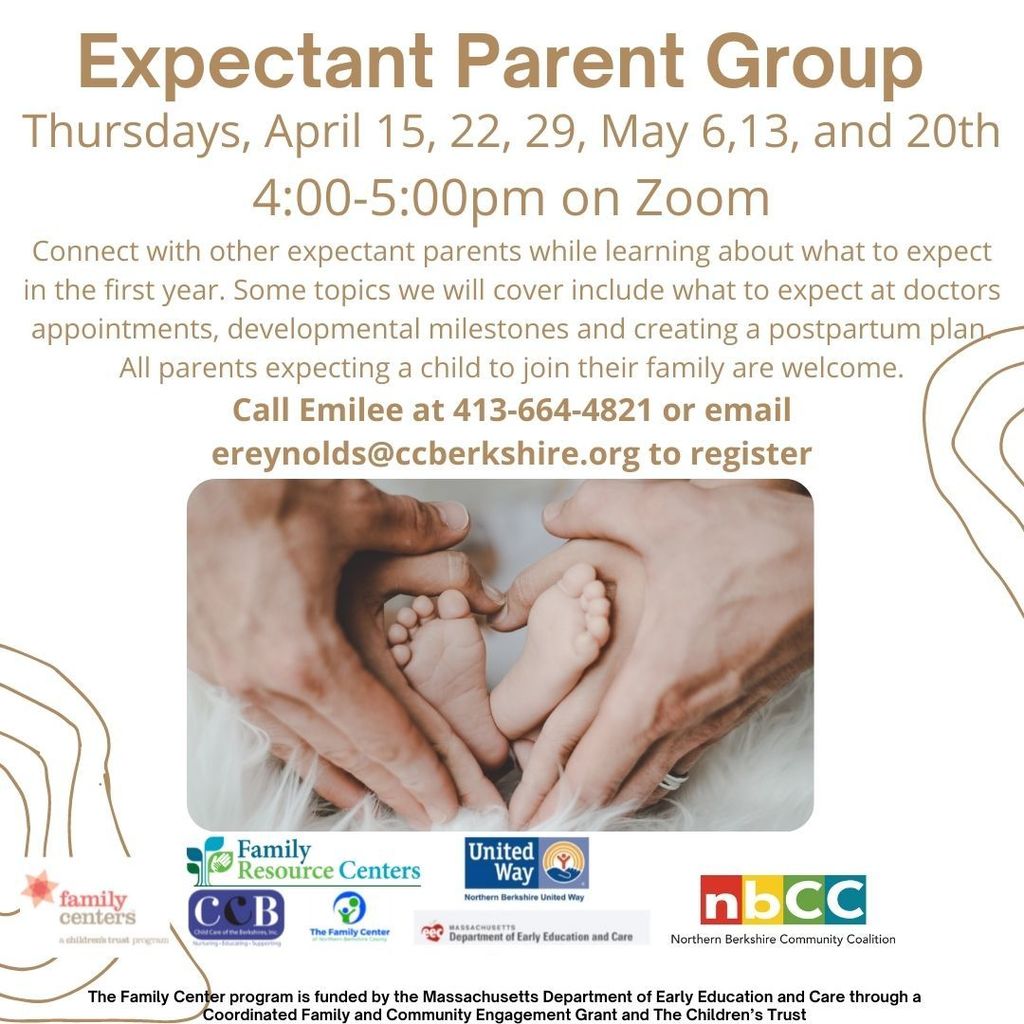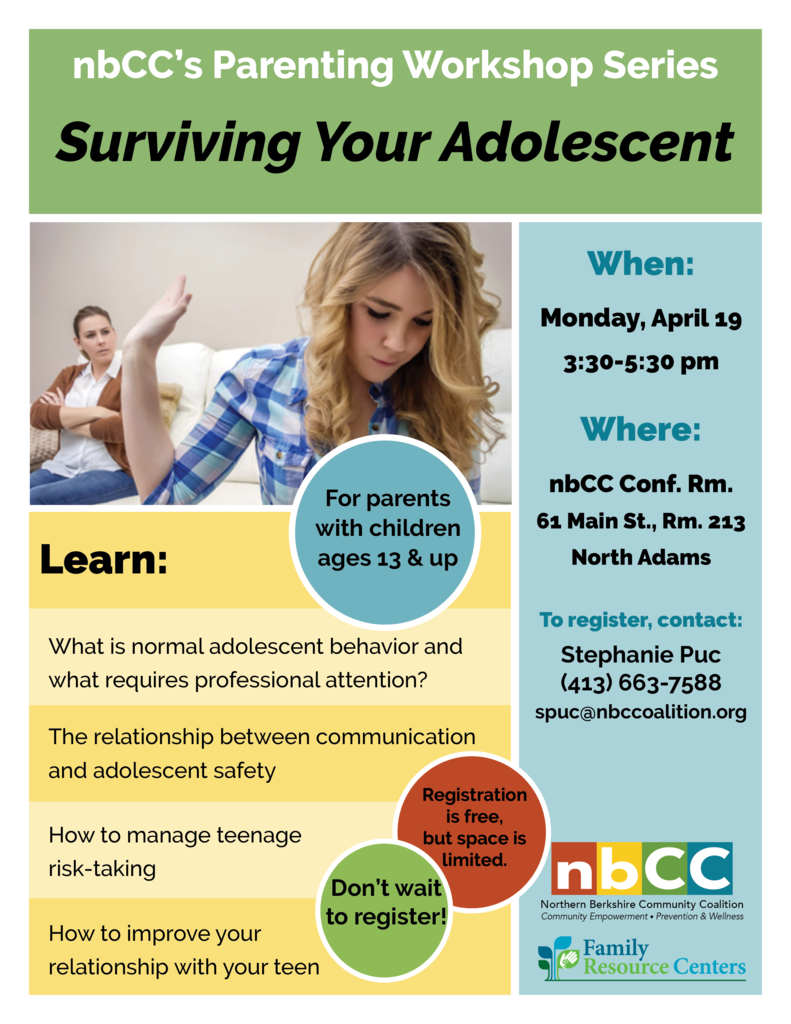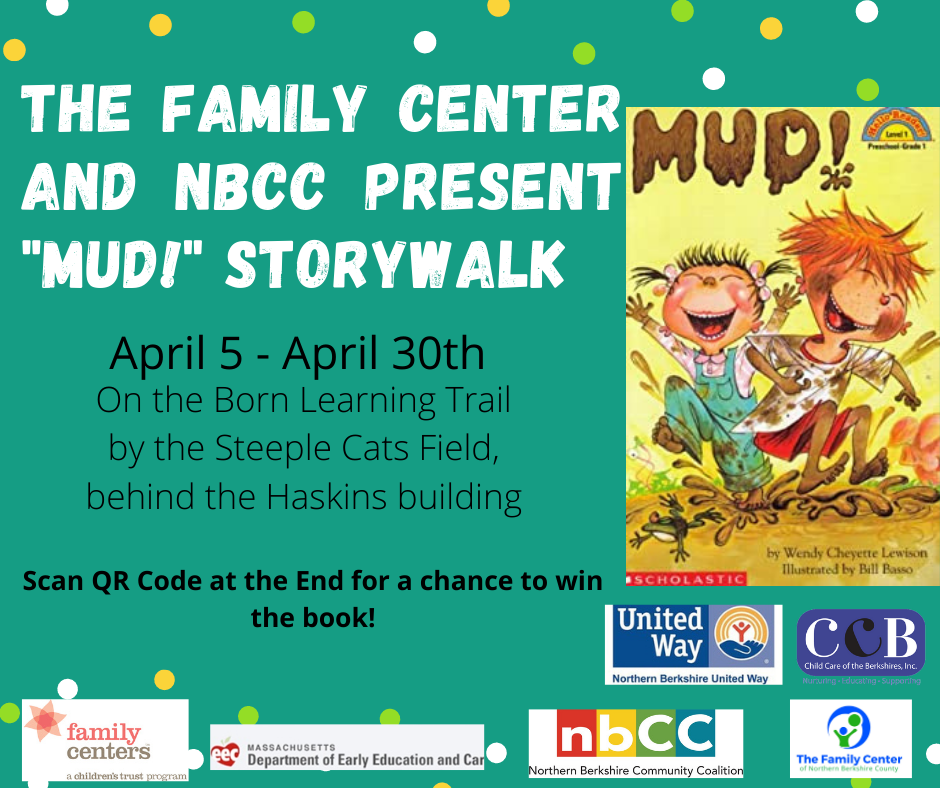 Trust the facts. Get the vax.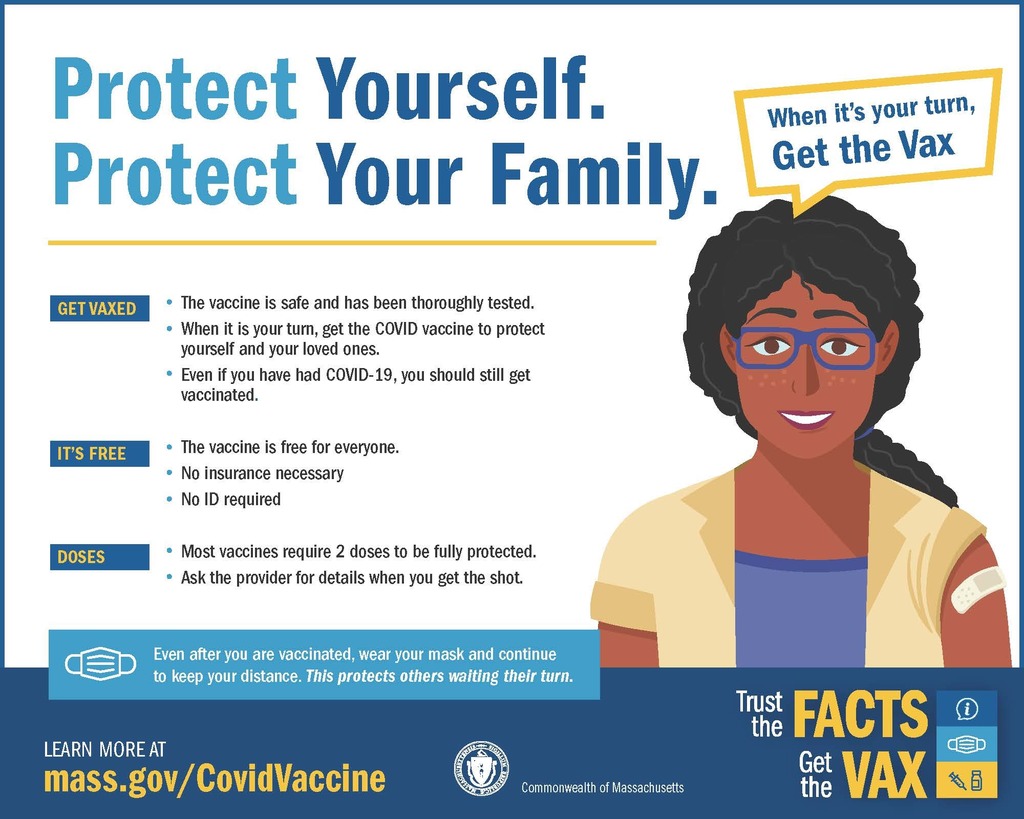 The Family Center April Events...